"IPP online library, bringing together best practices, guidelines and tools can be one step forward to offer this support. Besides the information, Life Stories from people working in the same conditions and facing same challenges can be very enriching and guiding"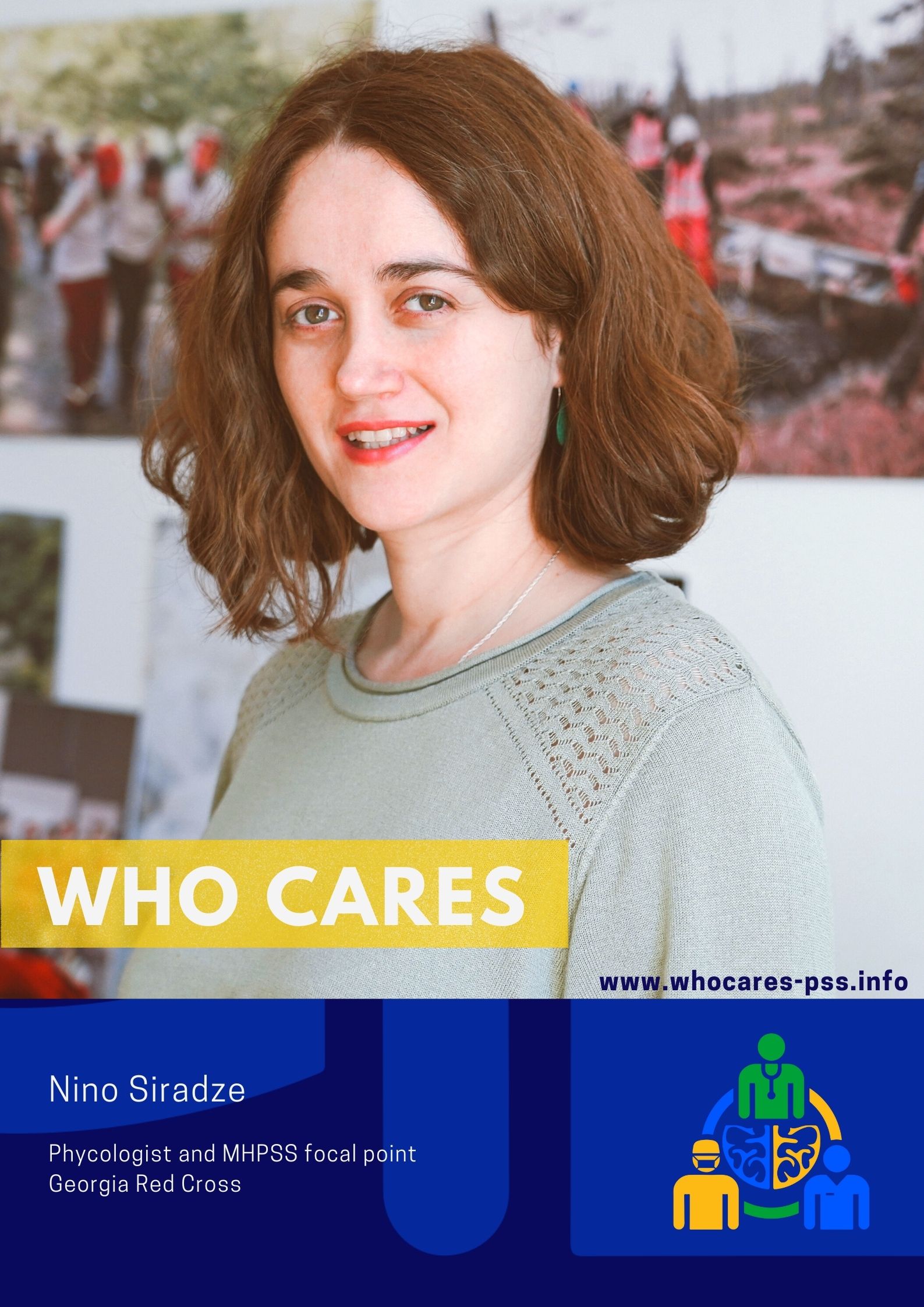 Meet Ms Nino Siradze
I joined the GRCS at the end of 2008, just after the war. Since then, I am involved in the strengthening and developing of the MHPSS component at the NS: establishing the system, building capacity of MHPSS teams, ensuring Caring for Careers etc.
IPP gives opportunity for assessing the MHPSS needs of frontline workers, better showing the gaps in the support system and establishing the online library; besides, it is the platform to share best practices between the field experts, do research, and bring it to frontline workers, giving them tools to acknowledge their MH more and cope with stress related to their daily activities.
I am a Psychologist in the project of IPP. I am involved in all activities, like: cooperation with the University in the process of doing a research, in collecting Life Stories and MHPSS materials existing in GRC for the online library etc.
In the results of the survey conducted in the frames of the IPP, we see moderate to high stress in most helpers, high fear of infection, high job commitment, feelings of concern and worry, also difficulty to adapt to new working conditions, high risks of infection, isolation etc.
In the process of offering MHPSS to frontline workers, we very often see the tendency to avoid support and being stuck in the "Hero" archetype, over-demanding towards themselves, which is risky, as it might bring the helpers to the level of burn out.
The survey shows, that there is a huge need of adequate psychosocial support – as on instrumental, as well as on informational, organizational and psychosocial levels.
IPP online library, bringing together best practices, guidelines and tools can be one step forward to offer this support. Besides the information, Life Stories from people working in the same conditions and facing same challenges can be very enriching and guiding.
But the changes should be proceeded also on organizational levels – creating supportive working environment for frontline helpers, free of stigma related to MHPSS needs, raising awareness of their MH needs and giving tools to self-care and peer support.